Andrew H. Swartz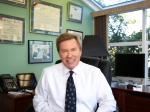 The legal profession has been my life passion. Since 1973, I have been fortunate to practice law in beautiful Monterey County, California. I have specialized in a broad spectrum of civil litigation for plaintiffs and defendants including personal injury cases from car accidents to defamation and a vast number of business and real estate disputes, most tried before judge, jury or arbitrator. I have also acted as court appointed referee, court appointed and private arbitrator, court appointed discovery referee, court appointed and private mediator, expert witness in attorney's fee disputes and ethical questions and court appointed tie breaking corporate board member. I have acted as trustee of several high profile trusts.
The Million Dollar Advocates Forum®
The Multi-Million Dollar Advocates Forum®
The Top Trial Lawyers In America ®
Av Preeminent® Peer Review Rated By Martindale-Hubbell




While I am known as a tough litigator, it is also known that I served on the State of California Committee on Professional Conduct and Responsibility, sometimes referred to as "the Ethics Committee", including as Vice Chair in 1981-1982 and Chairman in 1982-1983, California Trial Lawyers Association, and numerous charitable and civic organizations. For over twenty years, I have been the volunteer legal counsel for The Sports Car Racing Association of the Monterey Peninsula (commonly called "Laguna Seca Racetrack"), Carmel Associated Sportsmen, Inc., and Santa Catalina School along with other charitable organizations.
The Carmel Pine Cone has presented the Golden Pine Cone to Andrew Swartz honored by discriminating readers as the Monterey Peninsula's Best Attorney if you Need to Sue Somebody 7 years in a row 2012-2018.
Sample cases include actions both for and against financial institutions (see Young v. B of A (1983) 141Cal.App.3d 108, trust litigation (see DeMille v. Ramsey (1989) 207 Cal.App.3d 116) construction defect and Mechanic's Lien (see Sobeck & Associates v. B & R Investments (1992) 215 Cal.App.3d 861), a vast array of real estate disputes (see Reichardt v. Hoffman (1997) 52 Cal. App. 4th 754, and automotive franchise disputes (British Motor Car Distributors, Ltd, dba Maserati Import v. New Motor Vehicle Board (1987) 194 Cal.App.3d 81).
My wife Kiane Swartz shares in many of my interests. My son, Adam, is a Paramedic Firefighter Officer for the City of Chicago, and my other son, Alex, is employed by Visa as a Senior Product Manager for Visa Debit Division in Foster City, California. We are an athletic family with a passion for sports, swimming and cycling. I have run the New York, Boston, San Francisco, and Big Sur Marathons.
Practice areas
Education
University of Santa Clara School of LAW – Juris Doctorate 1973
Santa Clara Law Review, magna cum laude
University of Pittsburgh – Bachelor of Arts 1970
Honors
The Golden Pine Cone - The Carmel Pine Cone, "Monterey Peninsula's Best Attorney if you Need to Sue Somebody" (2012-2018)
Comments Editor, Santa Clara Law Review
"An Employer's Right of Freedom of Speech During a Union Organizational Campaign,"
Santa Clara Law Review, Vol. 12, pg. 580, 1973
Associations
Member State Bar of California since 1973
Member Monterey County Bar Association since 1973